Mesilla Valley Transportation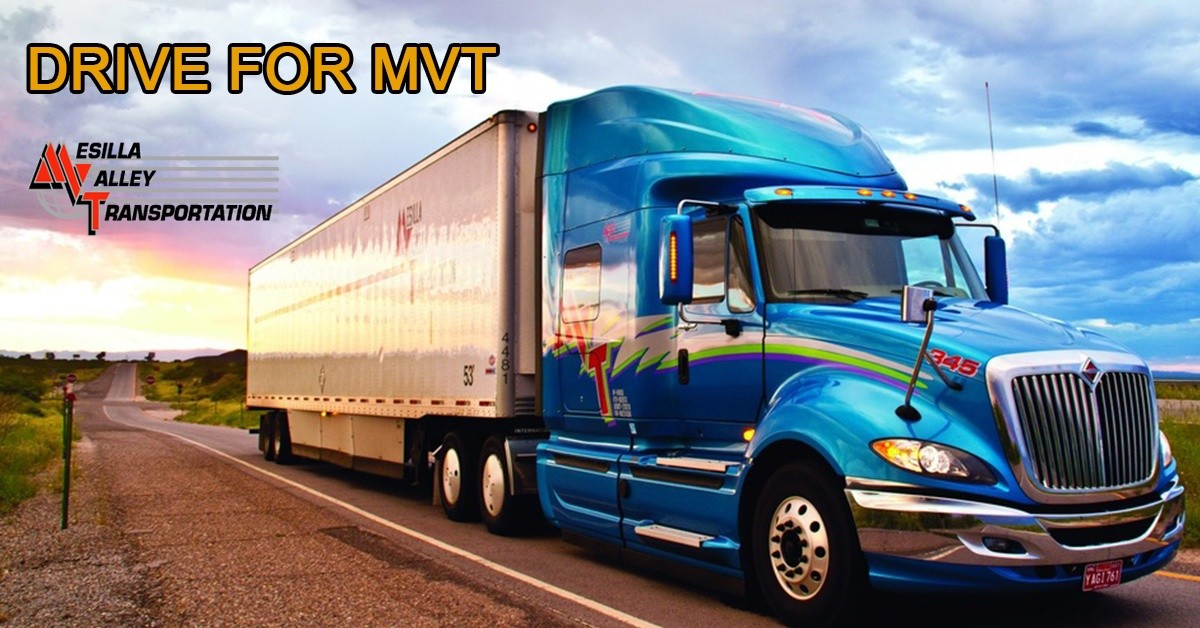 Truck Driving Jobs at Mesilla Valley Transportation
This company's jobs will be updated shortly...
Requirements
Driver Type(s)
Company Driver
Team Drivers
Benefits
Health Insurance
Vision Insurance
Dental Insurance
Retirement Plan
Paid Weekly
Direct Deposit
Paid Orientation
Incentives
$25,000 year-end bonus...BEST FUEL MILEAGE!
Rider Policy
Quarterly New Car give away...and safety bonuses.
Company Overview
Mesilla Valley Transportation
844-297-2146
Located in Las Cruces, New Mexico, and El Paso, Texas, Mesilla Valley Transportation began in 1981 hauling primarily refrigerated/perishable goods, as a small, independent fleet in the Southwest. During a period of controlled growth through the 1980's and early 1990's, the MVT service area encompassed the 48 United States and Canada. Even then, MVT was recognized as a leader in quality service.
In 1991, MVT brought its knowledge of time-sensitive, reliable transportation to the U.S. / Mexico border with the servicing of the Twin-Plant Industry. The acquisition of numerous 53 ft. dry van trailers made our fleet a sizable force in the industry.
Today, Mesilla Valley Transportation is one of the largest locally-owned transportation providers in Western Texas and Southern New Mexico. We specialize in time sensitive service between major manufacturing areas in the U.S., Canada and Mexico borders.
Mesilla Valley Transportation invites you to compare our service, rates and safety record to any trucking company in the nation. We are dedicated to delivering valuable assets on time and in good condition. With refrigerated and dry freight capabilities, MVT has the resources to handle any transportation need. Once you compare MVT to the rest, you will understand why we stand by our reputation.
MVT also has the most efficient fleet in the USA , possibly the world. We pride ourselves in finding ways to make our equipment cut through the wind like no other. We also use low rolling resistance tires and have cut parasitic drag in our tractors. We were first to use trailer skirts 100% and now we have started installing boat tails on the back of trailers to reduce the drag behind the trailer.
The air we all breathe will be better due to our efforts, not to mention that the whole country would be less dependent on foreign oil if all would follow our lead…
Mission: "To become the first-choice transportation provider and the most respected organization in the trucking industry."
Goal: "To maintain a first-class relationship between Mesilla Valley Transportation and its customers. MVT endeavors to provide on time delivery, safety and good communication to all its customers"
Contact Info
Mesilla Valley Transportation
9525 Escobar Dr.
El Paso, TX 79907
Phone Number
Recruiting : 844-297-2146
Connect with Mesilla Valley Transportation